How Much Do Guns Cost? (Rifle, Shotgun, Pistol, Handgun)
When you buy via links on our site, we may earn an affiliate commission at no cost to you.
Learn more.
As gun collectors and gun enthusiasts, we are constantly searching for the latest model gun to add to our growing collection.
When searching for a gun, there is a wide variety of types and prices to choose from. So, choosing the class of gun and its respective price can take some time to research.
How Much Does A Gun Cost?
There are several kinds of guns, and they can be classified into either a Rifle or a Handgun. You find AR-15, Ak-47, and the M16 within the Rifle class.
In the category of a Handgun, you will find a single-shot handgun, revolver, and semi-automatic pistols. The shotgun is used for hunting purposes.
Average Gun Prices
| | | |
| --- | --- | --- |
| Gun Type | Gun Class | Average Price |
| Ruger AR-556 | Assault Rifle | $789 |
| Riley Defense RAK47 | Ak-47 | $789 |
| Glock G17 Gen5 9mm | Pistol / Handgun | $624 |
| Kahr CW45 Carry | Compact Handgun | $387 |
| Luger (Collector's piece) | 9mm Pistol | $1,595 |
| Kimber K6S DASA | Revolver | $949 |
| Winchester XPR | Bolt-Action Shotgun | $646 |
| Rossi Rio Bravo .22 LR | Lever-Action Shotgun | $331 |
How Much Does A Rifle Cost?
Within the Rifle gun class, three main types of rifles are produced and available on the market. These are the three rifle types:
Automatic Rifle
Semi-automatic Rifle
Assault Rifle
A rifle is a weapon meant to be fired from the shoulder and has a pattern of grooves, also known as "rifling," that is cut into the barrel's walls. The raised area of the rifling is referred to as "lands," which, when it makes contact with the bullet or the projectile, causes the bullet/projectile to spin.
The table below lists a few rifles within each rifle class, along with their comparative average prices.
Rifle Average Prices
| | | |
| --- | --- | --- |
| Gun Type | Gun Class | Average Price |
| F.A Cugir M+M M10X AK-47 | Automatic Rifle | $1,699 |
| Riley Defense RAK47 | Automatic Rifle | $789 |
| M+M M10X 7.62x39mm 16.5″ | Automatic Rifle | $1,425 |
| Colt M16A2 Commando | Fully Automatic Rifle | $48,999 |
| Barrett M107A1 Semi-Auto Rifle | Semi-automatic Rifle | $11,999 |
| FN SCAR 20S, .308 Win | Semi-automatic Rifle | $4,499 |
| Springfield Armory M1A | Semi-automatic Rifle | $2,199 |
| Ruger PC Carbine 9mm Take Down | Semi-automatic Rifle | $583 |
| Fn-15 Military Collector M16 Carbine Rifle | Assault Rifle | $1,699 |
| POF Renegade + Plus AR-15 | Assault Rifle | $1,743 |
| Colt CR6920 5.56/.223 | Assault Rifle | $1,049 |
| Sig M400 Tread AR-15 | Assault Rifle | $879 |
| Ruger AR-556 | Assault Rifle | $789 |
In the table above, you can see the various classes of rifles, along with their respective prices. This table is not a comprehensive list and summarizes the various rifle types and models within each rifle class.
Fully automatic rifles or machine guns like the M27 Infantry Rifle used by the United States Marines are tough to come by and will require that you get FBI clearance and background checks to obtain them. Fully automatic machine guns are not for sale to civilians.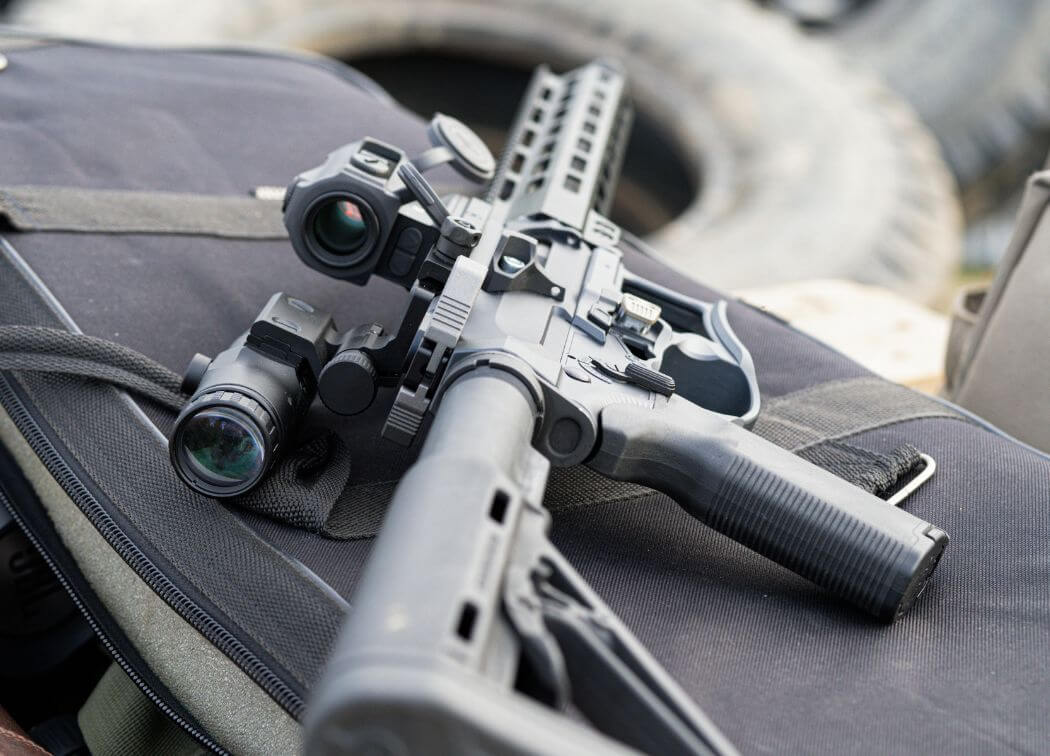 How Much Does An AR-15 Cost?
The AR-15 is a semi-automatic that fires a single round of ammunition each time the trigger is pulled. Many people have a common misconception that the "AR" in AR-15 means "assault rifle."
However, this is a common blunder since the "AR" stands for "Armalite Rifle," and Armalite is the company that manufactured these rifles. The AR-15's were first manufactured in 1956 by Armalite as a rifle for the United States Military.
However, Armalite ran into financial issues, and they could not continue producing these weapons, and in 1959 they sold off their business to Colt. The design of the AR-15 rifle was taken a step further by Colt, who then built the M16, which is now a rifle that the US Navy and Armed Forces use. The AR-15 has become America's most popular rifle, and it has earned the name "Americas Rifle."
A basic AR-15 Rifle like a Ruger AR-556 should cost you in the region of $701 to $789. A high-end AR-15 Rifle such as the POF Renegade Plus would cost around $1,743. These AR-15 Rifles can hold up to 30 Rounds of 223 Remmington Ammunition.
How Much Does An AK-47 Cost?
A standard Ak-47 like the Riley Defense RAK47 can cost in the region of $789 new. An Ak-47 like the F.A Cugir M+M M10X at the higher-end would set you back about $1,699. Both these Ak-47's hold up to thirty rounds of 7.62x39mm ammunition.
How Much Does An M16 Cost?
The M16 rifle derives from the Armalite Rifle AR-15 from the American manufacturer Armalite Inc. Once Colt bought off the AR-15 manufacturing plant from Armalite in 1959, they started to manufacture M16s that were based on the original design of the AR-15 rifle.
The first M16s were shipped to US troops based in Vietnam in 1964. These M16s did have a few issues at first; namely, the American Army decided not to chrome plate the rifle's chamber, causing the chamber to corrode. The rifle's stock cracked occasionally, and the barrel, bolt carrier, and other steel parts attracted rust.
These issues were attributed to the Secretary of Defense Robert McNamara rushing the production of these rifles to send off to troops in Vietnam quicker. As a result, the M16s were manufactured poorly.
Soldiers were also not trained to maintain the new rifles and were not provided with cleaning supplies or cleaning instructions. By 1997, the M164A was produced, and US troops could mount accessories and optics to the top rail, giving them a rifle, which is much more adaptable to their environment.
An original M16 Rifle will be tough to come by, as the American Military only owns it.
However, replica versions of the M16, like the Fn-15 Military Collector M16 Carbine Rifle, are available. Like the AR-15 Assault Rifle, the FN-15 Military Collector M16 uses .223 Remmington Ammunition or 5.56 NATO rounds.
You can pick up the FN-15 Military Collector M16 Rifle for around $1,699. If you are looking for a more high-end version of an M16 Rifle, you can get the Colt M16A2 Commando for around $49,999.
Handgun Average Prices
How Much Does A Handgun Cost?
A handgun is a firearm that has a short barrel, which is typically meant to be fired with one hand. Whereas a Rifle has a long range of fire, a Handgun, on the other hand, has a firing range of not more than 110 yards.
There are two common types of handguns available: revolvers and semi-automatic pistols.
You will get a Full-sized, Compact, Sub-compact, and Micro-compact or pocket pistol in the Handgun class. Within a Revolver class, you will find a Single-action, Double-action, and Double-action only. I've listed above a few models for each of these handgun types, with the comparative prices for each.
How Much Does A Pistol Cost?
A pistol comes in a few variations and sizes depending on the specific use for the weapon. Each pistol variation comes with a price that varies across the various models and pistol sizes, from full to compact to a sub-compact-sized pistol.
A Wilson Compact Tactical is a full-sized pistol that would cost you about $4,866, new, although its availability is not always guaranteed.
If you're searching for a handgun that is a lot less costly, which you would only need for self-defense, then the Glock G17 Gen5 9mm does the job just right and comes with a very reasonable price tag of $624.
When you need to carry a concealed weapon, something that would fit underneath your shirt or suit jacket, then the Sub-compact pistol is the ideal weapon for that purpose. The Mossberg MC2SC Sub-Compact is an excellent everyday use sub-compact handgun that you can carry around with you without the noticeability of a full-sized handgun.
How Much Does A Revolver Cost?
A revolver is a handgun which has a revolving chamber that sits directly behind the barrel. That being said, Revolvers come in three different types, depending on the revolvers trigger and hammer action.
In the Revolver class, you will find a Single-action revolver, a Double-action revolver, and a Double-action only revolver. The Kimber K6S DASA is a reasonably priced revolver for regular use.
If you need something a bit more in the upper price range, then the Colt Anaconda .44 Magnum would also do the job, but it comes with a price tag of $1,899. The Colt Anaconda uses eight rounds of 44 Remmington Magnum ammunition.
How Much Does A Luger Cost?
A Luger can hardly be referred to as a typical gun, as it was manufactured in the early 1900s in Germany for use in the German military. The Luger was the standard service pistol for the Swiss Military and the Imperial German Navy in 1906. It has also been used extensively in other countries like Portugal, the Netherlands, Brazil, Bolivia, and Bulgaria.
The Luger, also referred to as Parabellum Pistol, is a semi-automatic handgun, which is now collected mainly by serious gun collectors and gun enthusiasts.
The Pistol Parabellum weighs in at 871g and has a barrel length of 4.7 inches. It uses 7.65×21 rounds of ammunition. The table below lists some of the Luger models and the prices for a few of these Luger models. The respective years in which each of these were manufactured are also listed.
| | | | |
| --- | --- | --- | --- |
| Handgun Model | Year Manufactured | Handgun Class | Average Price |
| Minty "G Date" Mauser Luger | 1935 | 9mm Pistol | $3,850 |
| 1941 Mauser Luger | 1941 | 9mm Pistol | $2,450 |
| Rare, Minty 1940 Mauser Banner Commercial Luger | 1940 | 9mm Pistol | $4,495 |
| 1920's DWM Commercial Luger | 1920 | 9mm Pistol | $1,595 |
| ANIB Interarms Mauser Luger – Navy Configuration | 1972 | 9mm Pistol | $2,250 |
It is also worth noting that the Luger pistol that George Luger invented in Austria was also intended for commercial and civilian use.
Shotgun Average Prices
How Much Does A Shotgun Cost?
The shotgun, also called a scattergun, is a long-barrelled weapon designed to shoot a cartridge known as a shotshell that discharges numerous tiny pellet-like sub-projectiles called shots or sometimes shoots a single bullet, also called a slug.
Unlike Rifles, Shotguns do not have any rifling on the inner wall of the barrel. However, rifle barrelled versions are also available that can shoot slugs.
Shotguns are available in various calibers and gauges that range from 0.22 inches up to 2 inches in diameter. The twelve-gauge 0.729-inch and 20-gauge 0.615-inch shotguns are the most common.
Nearly all shotguns are "breech loaded," meaning that the guns are loaded through the rear end of the barrel. Shotguns can be single-barrelled, double-barrelled, or a combination of a rifle-barrel and shotgun barrel.
Like rifles, shotguns are also available in a range of action types, namely single-shot and repeating. A single-shot shotgun fires a single round of ammunition and reloads manually after every shot. A repeating shotgun can fire off multiple shots before being manually reloaded again.
The shotgun is used for skeet-shooting and is also used by the police in many countries. The infamous sawed-off shotgun with sawed-off barrels is easily hidden and has been notoriously used by criminals over the years.
The sawed-off shotguns have been physically cut off with a hacksaw or a similar cutting tool to shorten the barrel to less than 18 inches. The two reasons for shortening the shotgun barrel can be attributed to concealment and spread.
It becomes easier to conceal in your boot or inside a very long jacket with a shortened shotgun barrel. Reducing the size of the shotgun barrel decreases the shotgun recoil, which makes it easier to use as a single-handed weapon. The shot pattern on a sawed-off shotgun is much more spread out and travels a shorter distance before it disperses.
In the shotgun range of firearms, you will find three shotguns classes: the bolt-action, lever-action shotgun, and pump-action. If you are looking for a reasonably priced bolt-action shotgun, then the Winchester XPR is the right one for you.
The Winchester XPR will set you back a mere $646, which is very affordable for a well-priced entry-level shotgun.
The Mossberg 590A1 Retrograde 12 gauge shotgun is built to military and law enforcement standards and will be the ideal addition to your collection. These shotguns take 2.75-inch rounds and 3-inch factory shells. It has a walnut stock with a black parkerized metal finish. For a gun of this quality, it is very well priced. The Mossberg 590A1 comes in at a cool $999.
When you require a shotgun that does not need to be reloaded after each shot, such as a repeating shotgun, then the Kel-Tec KSG 12 Gauge is one of those shotguns. The Kel-Tec KSG 12 Gauge is a shotgun that you can almost fire "forever" without constantly reloading. The Kel-Tec KSG 12 Gauge is available online for a retail price of $999. This weapon has had some issues with feeding the rounds into the chamber.
Conclusion
My list of firearms above is by no means an all-out list of handguns, shotguns, and rifles currently available on the market. These models and their respective prices are meant only as a guide to indicate what each gun type costs to help you decide on your next rifle, shotgun, or handgun.