How Much Does An AR-15 Cost?
When you buy via links on our site, we may earn an affiliate commission at no cost to you.
Learn more.
AR-15s are among America's most popular rifles – and for a good reason. The AR-15 is a versatile and affordable weapon that's easy to modify and easier to shoot. So, how much does an AR-15 cost, and why should you buy one?
On average, an AR-15 will cost $850. A top-of-the-line rifle can cost over $2000, while the most budget versions of this gun are priced at about $700. Owning an AR-15 will let you better protect your family, improve your shooting skills, and assert your rights as an American citizen.
Now that we know the basics of an AR-15's cost, we'll show you a list of some of the best AR-15 models and their prices. That way, you can decide which version of this rifle is the best for your budget.
Not only that, but we'll also discuss why you should buy an AR-15 and which are our favorites.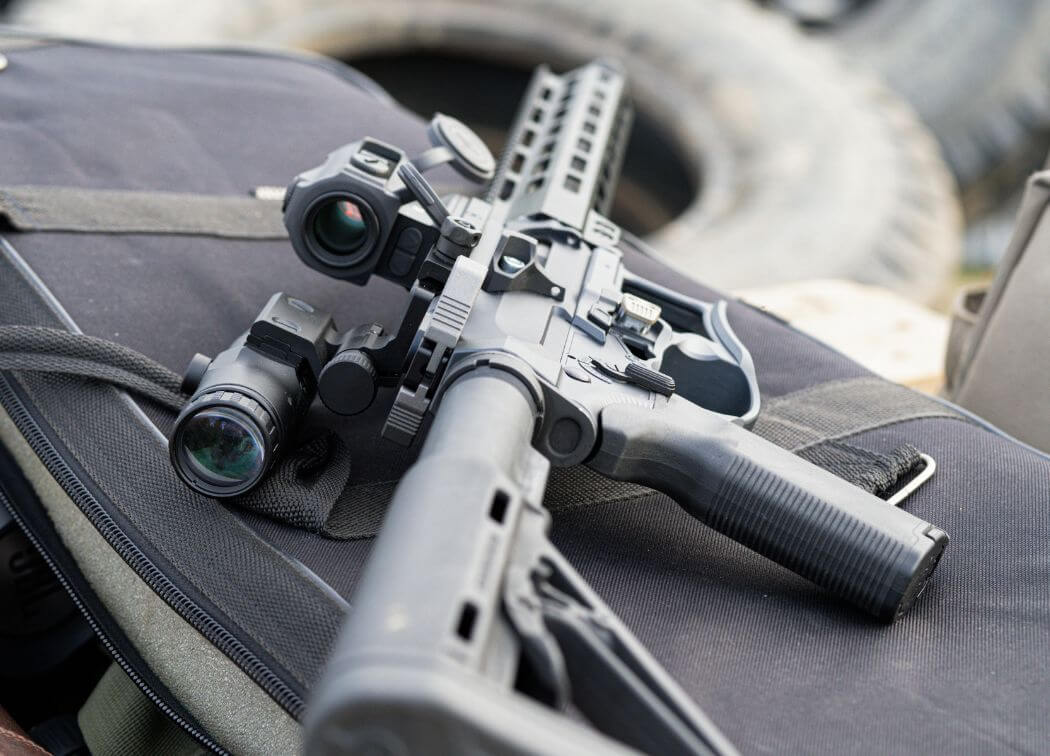 How Much Does An AR-15 Cost?
AR-15s can be divided into three (informal) categories: top-of-the-line, mid-tier, and budget. Of course, the quality of a top-of-the-line Colt AR-15 will be higher than the PSA version. It'll be more reliable, durable, and often more comfortable to shoot.
However, that isn't to say that budget AR-15s are bad guns. All AR-15s are excellent guns – our military wouldn't use the automatic version otherwise. Yes, that's right. The M4 is an automatic AR-15!
A budget AR-15 is a fantastic starter rifle. You can hunt or shoot competitively with it, but it won't perform as well as a more expensive model.
Similarly, we'd recommend at least a mid-tier model for home defense. It would be best to be comfortable with your weapon in those circumstances.
So, we cannot recommend in good faith that you use a lower-qualify to protect your family and property. They are acceptable for recreation and training, though.
Most budget AR-15s can also be modified into better rifles with the right equipment and accessories since the default AR-15 is a modular weapon. Therefore, you might want to consider a budget model if you're confident that you can improve it in the future.
Last, keep in mind that we are showing average prices for these rifles. Depending on your location, sales, and availability, you could find one of these guns for $100 more. Or, if you're lucky, $100 less.
Top-Of-The-Line AR-15s
When you buy a top-of-the-line AR-15, you aren't only purchasing a gun – you're investing. These reliable rifles will last a lifetime with proper care. They will remain excellent tools for hunting, sport, and personal defense through it.
High-quality AR-15s are also more customizable, like expensive cars. It's possible when you buy one that you can specify traits like barrel length, caliber, and magazine capacity. You can fine-tune the gun to your exact needs.
Furthermore, these rifles are all service grade. Apart from being semi-automatic, these weapons are the precise same as those used by our troops. If knowing that doesn't bring a patriotic tear to your eye, I don't know what will.
Below are our picks and prices for the best AR-15s that money can buy.
| | |
| --- | --- |
| Top-of-the-line AR-15 | Cost |
| Bravo Company Mod 0 | $1100 |
| Kaiser US X-7 MONARCH | $1800 |
| Daniel Defense DDM4 V7 | $1900 |
| LaRue PredatAR | $2210 |
| Colt M16A1 Retro Reissue | $2500 |
We Recommend The Daniel Defense DDM4 V7
Daniel Defense is renowned for creating some of the best semi-automatic rifles that money can buy, using all-American parts and manufacturing.
The Daniel Defense DDM4 V7 features a cold hammer-forged 16-inch barrel with a built-in flash hider. Not only that, but this gun also has a mid-length gas system despite being a carbine. So, it is exactly as reliable as a full-length rifle.
If you're looking to customize your weapon, the DDM4 V7 is ideal, with seven M-LOK attachment points.
The standard model comes with a pistol grip and stock for ease of use. This style is excellent for maneuverability, which is what you need in a home defense situation—combined with fantastic reliability, that makes the DDM4 V7 the ideal AR-15 regardless of your status. The Daniel Defense DDM5 V7 does it all: Hunting, sports shooting, and self-defense.
Mid-Tier AR-15s
Mid-tier AR-15s are an excellent entry point to the style, especially for people keeping an eye on their budget. These rifles are reliable and durable but lack the branding, customizability, and other perks that come with a top-of-the-line gun.
A cheaper gun is also an excuse to shoot more. Because you've saved money on your initial purpose, you can buy more ammunition for it and, so, improve more.
| | |
| --- | --- |
| Mid-Tier AR-15 | Cost |
| American Tactical Imports Milsport Ria | $830 |
| Advanced Armament Corporation AR15 | $950 |
| Sig M400 | $1000 |
| Rock River Arms LAR-15 | $1000 |
| Springfield Armory Saint Victor | $1000 |
We Recommend The Springfield Armory Saint Victor
The Springfield Armory Saint Victor is a quality mid-level AR-15 in a lightweight carbine style. It has a corrosion-resistant finish, a 15-inch M-LOK free-float handguard, and spring-loaded sights. Overall, it is a compact but powerful gun.
However, our favorite feature is the Saint Victor's nickel boron-coated flat trigger. A unique, ergonomic design ensures increased accuracy and a grit-free trigger pull.
Budget AR-15s
Purchasing a budget AR-15 is a good idea if you don't have much spare cash or want to commit to this gun style fully. Nevertheless, a cheap AR-15 is still an AR-15, so it'll serve you well as a hunting and training rifle.
Even though these guns might not last as long or be as accurate as a higher-quality alternative, we assure you that they're entirely usable.
The AR-15s below are ideal budget options that do not compromise the gun's vital functions.
| | |
| --- | --- |
| Budget AR-15 | Cost |
| Anderson AM-15 | $600 |
| PSA PA-15 | $750 |
| M&P Sport III | $750 |
| GFLA .223 Wylde Rifle | $750 |
| Ruger AR-556 MPR | $800 |
We Recommend The GFLA .223 Wylde Rifle
GFLA is another great American company, and its AR-15 is no exception. The .223 Wylde Rifle is an affordable option with the customizability and precision of a far more expensive gun.
It has a sleek design with integrated PicLok technology and the renowned PWS long-stroke piston system. Users report higher than average accuracy for its cost, and GFLA will ship it to your local gun store, too, with only a minimal price increase.
Why Should I Own An AR-15?
There are dozens of benefits to owning an AR-15. Still, the most important we've found is that having this rifle allows you to defend and provide for your family.
Few other weapons are as versatile as the AR-15. With its relatively short barrel, affordable ammunition, and incredible customizability, the AR-15 can do it all. Investing in an AR-15 means, you'll never need another gun (although we recommend buying more, anyway).
If you're a new gun owner, then the AR-15 is also an excellent choice for other reasons. It has a simple, intuitive design with low recoil and high accuracy. Training with an AR-15 is a breeze, and there's a massive, supportive community around the gun as well.
Buying an AR-15 asserts your rights as an American citizen too. With the Second Amendment under threat, taking a stand and buying a rifle isn't just a personal choice – it's patriotism.
Conclusion
To conclude, the average price for an AR-15 is about $850, although you should be prepared to pay over $2000 for the best possible models. On the other hand, a budget rifle can cost as little as $600.
Regardless of what you purchase, you are buying a classic American product that will serve you and your family well.