Indiana Hunting Seasons (2022-2023)
When you buy via links on our site, we may earn an affiliate commission at no cost to you.
Learn more.
Welcome to the Indiana Hunting Seasons page. Updated US Hunting Seasons for 2022-2023.
As part of our comprehensive guide to US Hunting Seasons By State on this page you will find out "When Is Hunting Season for Indiana?"
There is also general information on the different hunting seasons for a wide range of wild game species. You will find links to the relevant State Authority so you can make sure you have all the correct legal obligations in place before you start your hunt.
The Indiana hunting season website describes the hunting in this State as follows:
"Looking to open up a new realm of hunting opportunities this year? Con-sider hunting the more-than 145,000 acres of Indiana's State Forests. From Clark to Yellowwood, and Salamonie River to Harrison-Craw-ford, Indiana's 11 State Forests provide a smorgasbord of wildlife habitats guaranteed to please almost any hunter."
IMPORTANT. All care has been taking in preparing this hunting season information for you. Please check the relevant State Authority's Website for further information and any changes to current US Hunting Season Regulations. We have provided a link to each States hunting season website for your convenience.
Indiana Deer Hunting Season Dates
The 2022-2023 deer hunting seasons are as follows:
| | |
| --- | --- |
| Reduction Zone: | Sept. 15, 2022 – Jan. 31, 2023 (where open) |
| Youth Season: | Sept. 24-25, 2022 |
| Archery: | Oct. 1, 2022 – Jan. 1, 2023 |
| Firearm: | Nov. 12-27, 2022 |
| Muzzleloader: | Dec. 3-18, 2022 |
Unless you qualify for one of the licensing exemptions, you need a resident youth hunt/trap, deer hunting, or complete lifetime hunting license to go deer hunting.
Within 48 hours of the time of harvest, every deer harvested in Indiana must be reported at an on-site check station, online through your Indiana Fish & Wildlife Account, by phone at 1-800-419-1326, or through your Indiana Fish & Wildlife Account. The phone service costs $3 and may only be paid for using a Visa or Mastercard.
Residents of Indiana pay $24 for each deer license, while non-residents pay $150. The second and subsequent Bonus Antlerless licenses are also priced at $15 for locals and $24 for non-residents.
Indiana Turkey Hunting Season
| | |
| --- | --- |
| Youth | April 23 & 24, 2022 |
| Spring | April 27, 2022-May 15, 2022 |
| Fall-Archery* | Oct.1, 2022- Oct. 30, 2022; Dec.3, 2022-Jan.1 2023 |
| Fall-Firearm* | Oct. 19, 2022- Oct.30, 2022 |
Season dates may vary by zone
The Indiana spring wild turkey season begins on April 26 and runs through May 14, 2023. The youth turkey season is scheduled for April 22 and 23, 2023.
Youth aged 17 or younger on the date of the hunt may participate in the youth season, but they must be accompanied by an adult who is at least 18 years old and licensed to hunt wild turkeys (unless exempt from license requirements under state law).
All other turkey hunting regulations must be followed by the youth hunter. The youth's adult partner may not take a turkey during the youth season and may not possess a firearm, bow, arrow, or crossbow while in the field, except for a handgun carried lawfully.
Furbearers Hunting Season Date in Indiana
Red & Gray Fox
Oct. 15, 2022 – Feb. 28, 2023
Coyote & Striped Skunk
Oct. 15, 2022 – March 15, 2023
Raccoon & Opossum
Nov. 8, 2022 – Jan. 31, 2023
Mink, Muskrat & Long-Tailed Weasel
Nov. 15, 2022 – Jan. 31, 2023
Beaver
Nov. 15, 2022 – March 15, 2023
Dog Running (Raccoon, Opossum)
Chasing season only – no hunting
Feb. 1, 2022 – Oct. 25, 2022
Zones for Waterfowl Hunting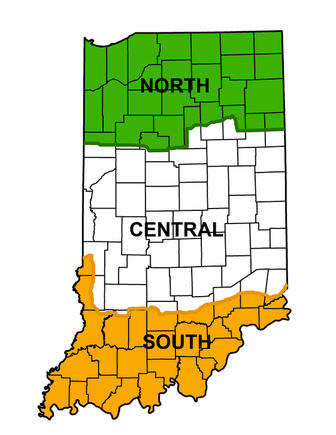 North: Indiana north of a line extending east from the Illinois border along State Road 18 to US 31; north along US 31 to US 24; east along US 24 to Huntington; southeast along US 224; south along State Road 5; and east along US 124 to the Ohio border.
Central: It's defined as the area south of the North Zone boundary and north of the South Zone boundary.
South: Indiana south of a line extending east from the Illinois border along I-70, east along National Ave, east along US 150, south along US 41, east along State Road 58, south along State Road 37 to Bedford, and east along US 50 to the Ohio border.
Indiana Game Bird Hunting Season
Game Birds
Dates
Limit
Pheasant (cock only)
Nov. 1, 2022 – Dec. 15, 2022
2 per day
Quail North of Interstate 74*
Nov. 1, 2022 – Dec. 15, 2022
4 per day*
Quail South of Interstate 74**
Nov. 1, 2022 – Jan. 10, 2023
8 per day**
Crow
July 1, 2022 – Aug. 15, 2022
Dec. 13, 2022 – March 1, 2023
No limit
For game birds, you can only have twice as many as the daily bag limit.
*Two per day on North Zone Fish & Wildlife areas, Mississinewa Lake, and Salamonie Lake
**4 per day on South Zone Fish and Wildlife Areas and Patoka Lake
Anyone hunting migratory gamebirds (ducks, mergansers, coots, geese, doves, woodcock, sora, and snipe) in Indiana must have a hunting license and a HIP registration number.
Hunting ducks and geese also necessitate the purchase of an Indiana waterfowl stamp privilege from a local retailer. To hunt mourning doves, you must also have a game bird habitat stamp.
Indiana Small Game Hunting Date
| Small Game | Dates | Limit |
| --- | --- | --- |
| Squirrel (Gray & Fox) | Aug. 15, 2022 – Jan. 31, 2023 | 5 per day |
| Rabbit | Nov. 1, 2022 – Feb. 28, 2023 | 5 per day |
| Green Frog & Bullfrog | June 15, 2022 – April 30, 2023 | 25 per day |
| Game Turtles * | July 1, 2022 – March 31, 2023 | 4 per day** |
The possession limit for species of small game is double the daily bag limit.
*The Eastern snapping turtle, the smooth softshell turtle, and the spiny softshell turtle.
** Limit is single or cumulative. The carapace length of these turtle species must be at least 12 inches.
Before hunting ducks, mergansers, coots, geese, doves, woodcock, sora, or snipe in Indiana, licensed hunters must register with the National Migratory Bird Harvest Information Program (HIP).
Hunters must register for a HIP number online or by phone and provide the requested information. Following registration, the hunter is given a validation number to write on his or her license.
This number is valid from the date of registration through the close of the last current migratory bird hunting season. Lifetime license holders must also register with HIP. Resident landowners and tenants who hunt on their own land must also now register with HIP.
Conclusion
I hope you have found this State hunting season information helpful in planning your next great hunting adventure. Please feel free to share this page with your hunting buddies. In addition to these US Hunting Seasons by State pages, you may be interested in these posts.
---